Model details:
Engine: 2.0L turbocharged 4C
Power: 248hp, 273 lb-ft of torque
Transmission: Seven-speed dual-clutch automatic
Drivetrain: AWD
Make an Inquiry
Safety/Special Features:
-Head-up display
 -Front/rear parking sensors
-Low-speed forward collision warning/mitigation
-Adaptive steering
-Ventilated sport seats
-19-speaker Bang & Olufsen sound system
-Automated parkiing
Beginning with the 2018 Audi A5 model's complete redesign, this terrific luxury automobile has received yearly enhancements. The 2019 model integrated standard LED headlights and additional infotainment tech, and the 2020 Audi A5 goes even further, with fresh exterior styling cues and a new infotainment platform.
2020 Audi A5 Details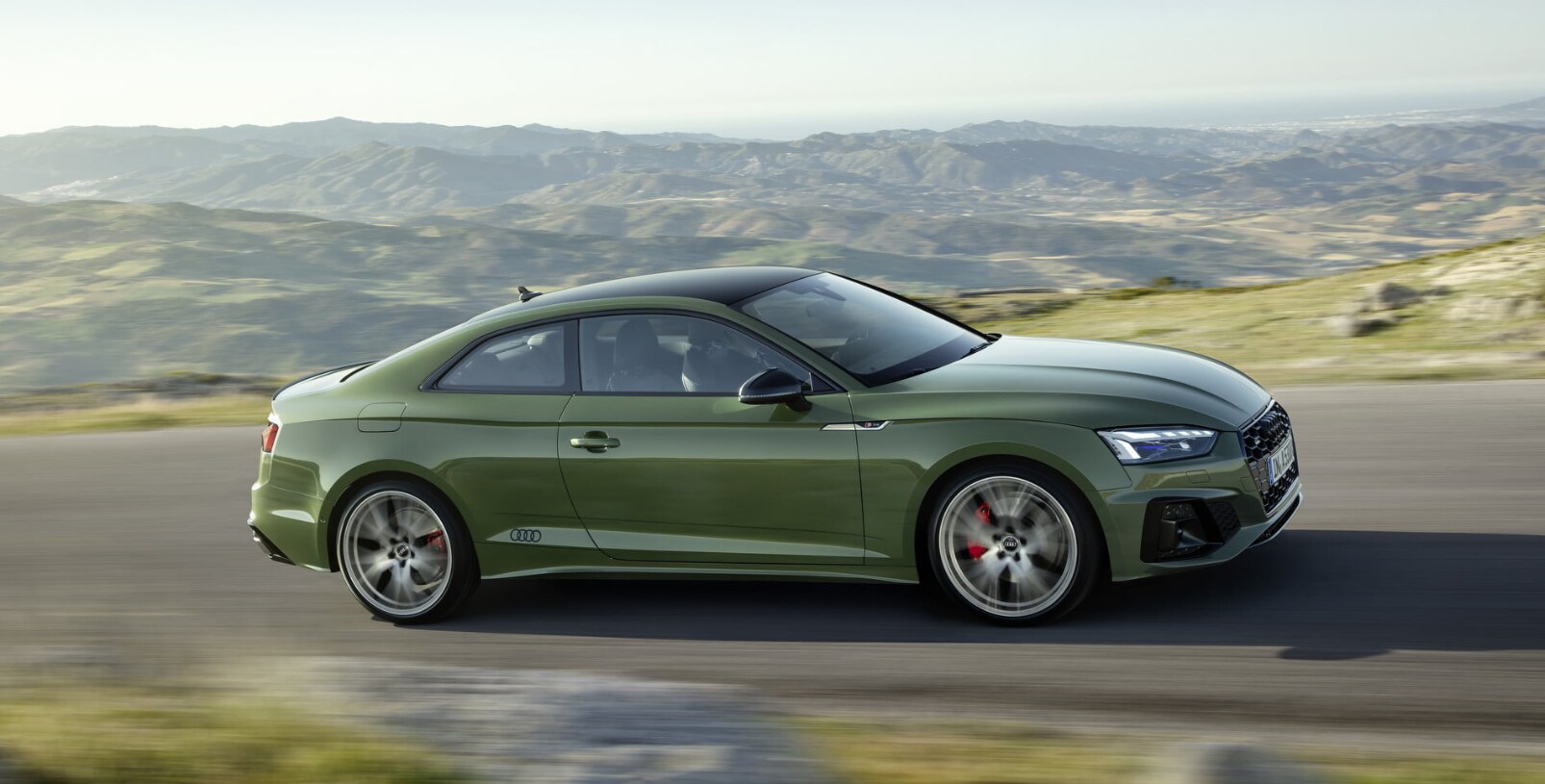 Shop for a 2020 Audi A5 at Audi Nashua and our local Audi dealers will fill you in on this premium vehicle's three body styles: two-door coupe, two-door convertible, and four-door Sportback. Each style comes in three trims, including the baseline 2020 Audi A5 Premium, mid-level 2020 Audi A5 Premium Plus, and range-topping 2020 Audi A5 Prestige. All trims and body styles utilize a dynamic powertrain consisting of a 2.0L turbocharged 4C engine that outputs 248hp and 273 lb-ft of torque, a seven-speed dual-clutch automatic transmission, and the Audi brand's well-known Quattro all-wheel drive (AWD).
Search "Audi cars near me" on your smartphone and get to know the 2020 Audi A5 model's new infotainment system. A new 10.1-inch touchscreen interface takes center stage and responds to both touch and verbal commands. Audi connect® and Audi phone box are available, as are Apple CarPlay and Android Auto.
2020 Audi A5 Safety and Special Features
The 2020 Audi A5 boasts exceptional safety ratings, superlative engineering, and all the latest safety technologies. Visit our Audi dealership serving Westford, MA and we'll introduce you to features like low-speed forward collision warning/mitigation, front/rear parking sensors, and adaptive cruise control. Plus, we'll show you how this car's head-up display is an invaluable driving accessory.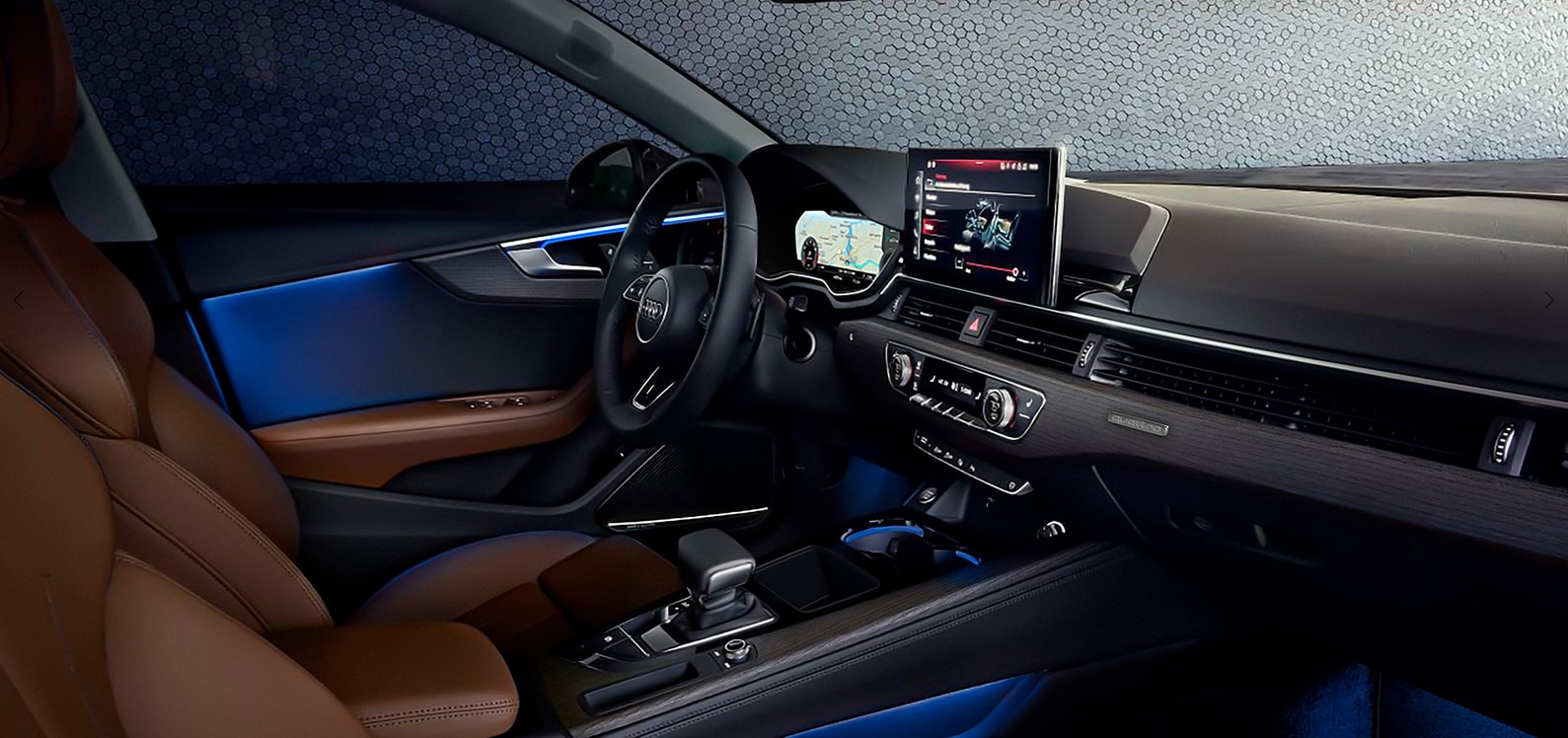 On the special features side, the 2020 Audi A5 delivers in all categories. For example, if you want to enhance this car's performance, a sport suspension and adaptive steering are available. Likewise, there are some great comfort/convenience options too, including a heated steering wheel and ventilated sport seats.
What's also impressive is how many of the 2020 Audi A5 model's special features come standard. A partial list includes heated front seats and satellite radio, along with automated parking and a 19-speaker Bang & Olufsen sound system. 
Test Drive a 2020 Audi A5 Today
The Audi A5 gets better every year, and the 2020 Audi A5 sets the standard with fresh styling, a new infotainment interface, and top-class configurability. Visit our online new car inventory, check out our Audi lease specials near Bedford, MA, and then stop in today for a test drive.