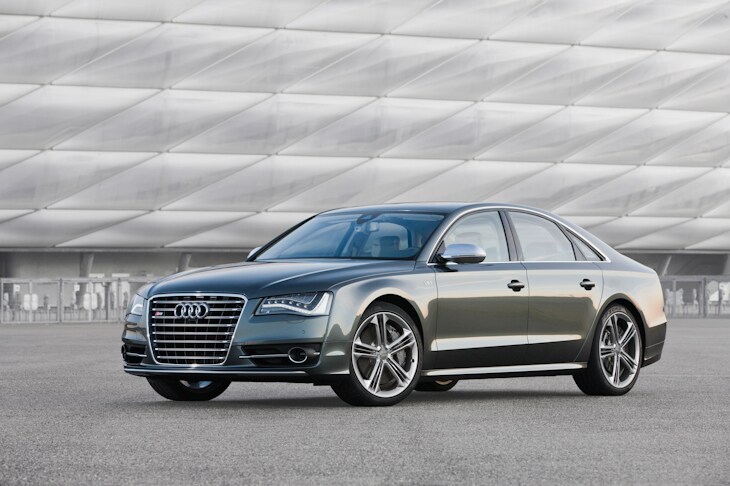 The new Audi S8 for 2013 Model Year at Audi of Nashua

We are excited to highlight that the third generation Audi S8 brings progressive performance to the executive class sedan with exceptional performance and efficiency. The Audi S8 the most powerful sedan in Audi of America's history features an all-new 4.0 liter twin-turbo engine generating 520 hp at an impressive 130 hp per liter.

The 4.0 TFSI® brings the engine downsizing strategy already seen in other vehicles to segments to the high-performance class. Twin turbo-charging gives the V8 outstanding power at 520 hp and 479lb-ft of torque to propel the S8 from 0-62 mph in just 4.2 seconds at a governed top speed of 155mph. The innovative cylinder head design packages the turbochargers and intercooler between the V-blank to provide shorter exhaust paths to the twin scroll turbochargers for impressive engine response. Compared to the previous S8 V10 engine, the new S8 delivers 15 percent more power, yet consumes 23 percent less fuel. Mated to the eight-speed automatic Triptronic® transmission that delivers responsive shifts and two overdrive top gears, the S8 powertrain provides effortless acceleration and relaxed cruising capability.